Students and parents in New Brunswick, N.J., want to know how an adult woman got into the local high school and went to classes for almost a week.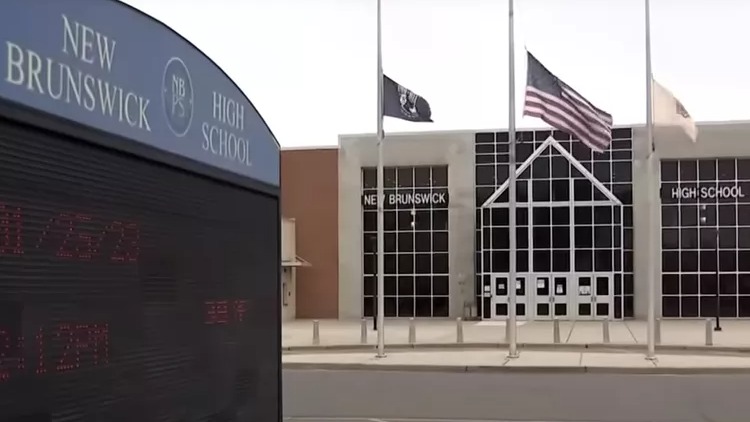 A press release from the New Brunswick Police Department says that 29-year-old Hyejeong Shin was arrested on Tuesday and charged with giving a false government document with the intent to verify one's identity or age.
Shin "provided a fake birth certificate" to the local Board of Education, the department says, "with the intention of enrolling as a juvenile" at the high school.
Superintendent Dr. Aubrey Johnson said that Shin "went to school for four days," according to a Twitter video from the district's Board of Education meeting on Tuesday that was posted by New Brunswick Today reporter Charlie Kratovil.
Shin took "a few classes," but Johnson said that she spent most of her time with the guidance department, where they tried to find out more about her past.
The school staff eventually "figured out this woman's trick, which let us handle the situation quickly," he told NBC News.
Johnson said that, based on Kratovil's video, Shin is no longer allowed on any of the district's properties.
A lot of people in the area are upset about what happened. Hundreds of students are seen on a video sent to CBS New York protesting in the hallways of their school.
Tatianna, a student, told New Brunswick Today that she "was in class with this woman" and also talked to her. She also gave the woman "personal information," which she felt bad about.
"Not knowing that she was 29 makes me wonder how safe I am in this building," said the young woman, who now thinks Shin "took advantage" of her.
When asked about her age, another student told CBS New York that the woman seemed strange. "She looked at me, looked back at me, and then walked away," a student who didn't want to be named said. She also said that she saw this as a "red flag."
CBS New York and New Brunswick Today says that Shin texted some students and asked them to hang out.
A student who didn't want to be named told New Brunswick Today that the woman asked some female students "to hang out on Commercial Avenue, but they never showed up."
After that, the student told the report that Shin "began to act weird with them."
Michael Castro told the same kind of story to the outlet. He said that the woman was trying to "get kids to go down a certain street."
The students have been told not to talk to her again, either in person or over the Internet.
But both New Brunswick Today and Insider say that students were still getting messages from the woman as late as Monday.
Students couldn't talk to the Board of Education about the problems on Tuesday because of a 2021 rule that says speakers have to sign up at least 24 hours before the meeting. This was reported in New Brunswick Today.
Ethan Calderon, a student at NBHS, told the newspaper, "We feel so unsafe, and no one wants to hear us."
According to a report in New Brunswick Today, Johnson said at a meeting on Tuesday that the Board of Education will look at how students get into schools again in light of the recent event.
The NBPD said that schools in New Jersey are required by law to "immediately enroll unaccompanied children, even if there are no records." They also said that proof of guardianship is not needed to sign up a child or teen who is alone.
No one knows if Shin has a lawyer who can speak for her.